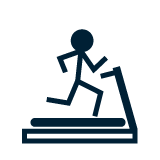 Treadmills
This category is currently being developed. That means that we haven't had the time to make it as good as we would like. Some products and prices may be missing.
Would a treadmill in the basement help you to keep your New Year's resolution or help you to get fit before the swimming season? In this category you will find treadmills in all price ranges from manufacturers such as Master, Abilica, Titan, Fell and Casall. Compare prices from 29 shops in this category.
This category is also known as Running machine.