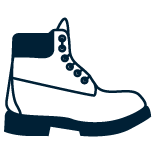 Hiking & Trekking Shoes
For long walks in the wild through swamps, thicket forest, jungle or mountains proper hiking boots or trekking shoes may be the best option. Even for diehard city dwellers who want to signal an air of wildlife sophistication this category may be useful. Compare prices from 136 shops in this category.
This category is also known as Hiking boots, Walking boots or Walking shoes.