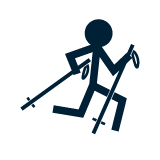 Walking Poles
This category is currently being developed. That means that we haven't had the time to make it as good as we would like. Some products and prices may be missing.
Walking poles, retains its place as a popular exercise equipment. We list rods from manufacturers like Oregon, Axess, Silva, Exped and Casall. Please note that products with (st) in the name are single poles and do not come in pairs. Compare prices from 70 shops in this category.
This category is also known as Trekking poles or Walking sticks.