Laptops buying guide
For many, a laptop is an expensive investment that preferably should last for several years. Below you'll find a list of important things to consider before buying one. Most people usually go by feeling, if the computer seems good when you try it, it's probably right for you.
Screen size and resolution
Choose a screen size that matches how you use the computer. If you often commute a smaller screen is a better choice than a big one. However, if you are gaming a lot, you should go for a larger screen. Here are some of the more common sizes today.
12-13 inches
Perfect for those traveling a lot and are happy to commute with a computer, as these models are often the thinnest and lightest models. If you want really good performance, you need to be prepared to pay significantly more for the same performance in a small computer than in a larger one. The reason is the technical challenges with a small computer chassis.
15 inches
Has long been a standard size that works well for most things. More expensive models are both powerful and easy to carry. If you are unsure, this is the first size you should look into.
17-20 inches
If you work a lot with graphics and enjoy gaming, these are the sizes for you. The computers in these size classes are often big and heavy, which is rarely suited for day-to-day use.
Keep in mind that the larger the screen the computer uses, the higher the resolution it needs to give a sharp picture. It is recommended to choose a computer with full-HD screen resolution or better for as good a performance as possible.
Processor and memory
The first thing most people are looking at is how fast the computer is. For regular office and school work, there is no need for particularly powerful components. You can quickly save hundreds of pounds of by selecting a slightly slower computer, without it making a huge difference.
Most laptops are sufficient for editing documents, working with photographs, and browsing the web. With that said, you should not choose among the absolute cheapest laptops on the market. A low price means that the manufacturer has to cut corners somewhere and if it is not on performance, it is often on battery life and chassis.
It is recommended to choose a model with at least eight gigabytes of internal memory and an Intel Core i5 or AMD A6 processor. It provides a good foundation that works for the most part, in addition to playing heavy computer games. If you want to work with video and graphics or gaming, you should look further into the higher price ranges. Preferably 16 gigabytes of internal memory as well as an Intel Core i7 or AMD A9 processor or better.
Be sure to choose a later generation processor. It gives you better performance and lower power consumption, without it needing to cost more. At the time of writing, you should choose a computer with seventh generation processor or later in order to not buy a computer with old processor technology.
Weight and storage space
If your computer is only going to be stored at home, you do not have to worry about how heavy it is. On the other hand, if you choose to wear a backpack every day, it's advantageous if you choose a thinner, more portable model. A few hundred grams may not feel very much in the shop, but for daily commuting it can make a big difference.
If you aren't planning to edit large amounts of video or images, the storage space does not matter that much. At least 128 gigabytes is recommended in the storage space where the operating system is located. Avoid mechanical hard disks and instead choose a model with SSD for better performance.
Today, you can use cloud storage services like Microsoft Onedrive, Google Drive, or Dropbox to relieve your computer's storage space. If you edit high resolution videos or save large amounts of images, a fast, external hard drive could be a better complement.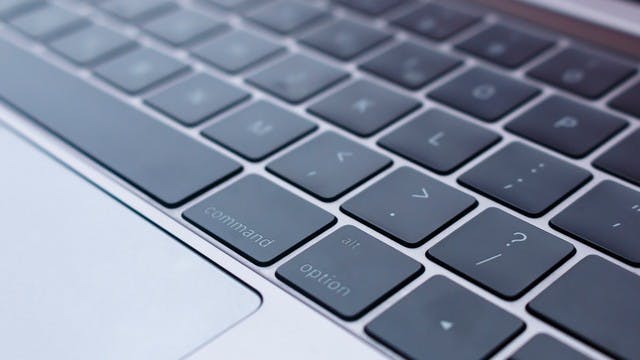 Watch out for battery life and the keyboard
How much battery life do you need? At least six hours is preferred, and preferably eight hours or more to cover a whole working day.
The keyboard differs a lot in feeling and design. Smaller laptops often have smaller keyboards and almost no space between the keys. The largest models have full-sized variants with number keys. Because the feeling differs from computer to computer it is important to try before purchase.
The touchpad should, in turn, be of good size with plenty of room for gesture control. A larger touchpad lets you drag text and move files across a large screen more easily. Because the palms often come into contact with the touchpad, the computer should be able to ignore this so that the mouse pointer is not moved inadvertently.
Windows, Mac, or Chrome OS
The choice of operating system is largely a matter of personal preference and which programs you need. The cost of the computer is also a consideration.
Apple's laptops cost from about £450, while Windows and Chrome OS computers are just available for purchase for a few hundred pounds. If you do not need any programs that are specific to macOS, you can save a lot by purchasing a Windows PC or Chromebook with Chrome OS.
Both Mac and Windows computers have thousands of applications to choose from. Chromebooks with Chrome OS are mainly restricted to web apps running in the browser. Some models support Android apps from the Google Play Store.
Check carefully before buying so that you choose the right operating system for your needs.
Traditional laptop, 2-in-1 or tablet
With a touch screen, it's easier to write digital notes, draw and create illustrations. Many laptops lack a touchscreen, but it is becoming more common with touchscreens in computers that use Windows and Chrome OS.
Even better are models with support for an active stylus pen that connects via bluetooth. These are thinner than passive stylus pens for better precision on the screen. Often, the additional function buttons are attached to software on the computer for additional features.
On laptops with touchscreen, but without the support of the active stylus pen, you're limited to using your fingers or a passive stylus pen for touchscreens. You can still draw and write, but you do not get the same precision or functionality as you would with an active stylus pen.
Tablets are an alternative to the laptop when you need a smaller and easier option. All tablets have touch screens and several models support the active stylus pen.
There are a wide range of applications that make the transition from computer to tablet not so hard. However, they come with certain restrictions that may change the way you work. For example, file management is a little bit harder and not all models have good keyboard support. A simple thing like cropping images can be difficult on a tablet.