Power bank buying guide
With a power bank, you can charge both mobile phones as well as other battery-powered devices outside of the home. However, choosing the right battery isn't an easy task, as you'll need to consider a whole range of technical aspects. In an attempt to help you choose the right power bank, we have divided the decision making process into 6 simple steps.
Battery capacity (mAh)
The first step is to find out how much capacity there is in the battery of your mobile phone. Battery capacity is measured in mAh, which is short for milliamperes per hour. Thus, you will need to find out how many milliampere hours the battery in your mobile phone contains. This information is normally printed on the battery but if you can't get hold of this information you can find it on google or search for your phone on PriceSpy where this information is provided. For example, the battery capacity in my mobile phone (an Iphone 6) is 1810 mAh, which means that a portable battery with 2000 mAh can charge my mobile phone once.
Number of charges
The next step is to decide how many times you would want to charge your mobile phone. As previously mentioned, the battery capacity in my Iphone 6 is 1810 mAh. To charge the phone twice will require 3620 mAh of battery capacity in the portable battery. In reality, one third of the battery capacity will disappear through heat generated when charging the phone. To charge the phone twice I would need a portable battery with a capacity of 5000 mAh. Please note that more capacity usually also means a physically larger portable battery.
Output rating (A)
Once you know what capacity you need, you'll need to decide how fast you want it to transfer from the portable battery to your mobile phone. This is called electric current and is measured in ampere (A).
It doesn't matter how many ampere the mobile phone or the portable charger has, the battery on the phone will still be charged. What does differ though, is the speed.
If you want the phone to be charged as fast as possible, the portable battery will need to contain at least as many amperes as your phone can receive. The newest mobile phone models on the market almost all manage a bit more than 2 ampere, but if you want to find out more, this information is normally found on the manufacturer's website.
The output rating on my IPhone 6 is 2.1 ampere. If I were to buy a portable battery of 1 ampere, charging the phone would take double the amount of time than if I were to buy a 2 ampere battery. However, you do not have to be worried that the portable battery could give more amperage than the phone can receive, the mobile phone only uses the amount of ampere it needs.
Input rating (A)
Previously we looked at how fast the portable battery charges the mobile phone. Now, let's look at how fast the portable battery can charge itself, so called input rating, which is important if you're looking for a portable battery that can take 10000 mAh. Portable batteries with a low input rating can take up to 24 hours to charge, and with an input rate of 1 ampere it takes double the amount of time to charge than with an input rate of 2 amperes. To find out how many input amperes the portable battery has, you can look it up on the manufacturer's or the shop's website.
Do take into consideration that portable batteries are very rarely provided with chargers or cables, many manufacturers assume that you've already got a charger and a usb-cable at home. In my case, I'd probably plug my iPhone charger in to the wall and use a regular usb-cable to transfer the current into the portable battery. The downside is that an iPhone charger only gives 1A, which means that a portable battery with an input rate of 2A can only charge at half speed.
However, an iPad charger gives 2.4 ampere which means full charge speed for the same portable battery. If you connect the portable charger to your computer via usb, a standard usb 3.0 port can give 0.9 ampere.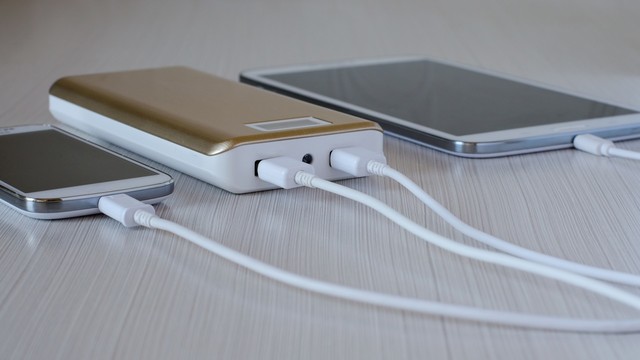 Ports
Many portable batteries have several different ports, and the most common ones are regular usb-ports that fit most devices. Recently usb Type-C ports that fit Apple's latest computer models have been released and these come with a higher charge speed. Make sure that the item you want to charge physically fits the portable battery, then decide how many ports you need, and once again pay attention to the amperage.
Not all ports on the portable battery necessarily give the same amperage. It's not certain that you can use a maximum amount of amperage on all ports simultaneously as the battery can have a lower total current. A portable battery with three ports, each 2A, can have a total current of 4A, which means that the total amperage will be max 4A, regardless of how you connect them.
Extra features
Moreover, there are portable batteries with additional features. Some have solar panels, which is great as you're not dependent on wall sockets as long as the weather stays sunny. Others have regular chargeable batteries that can be replaced.
One feature that could come in extra handy is the indicator that shows how much power is left. It can consist of a small number of lamps or a more precise display. In some cases there are no indicators at all which makes it harder to estimate when the battery will run out.
In certain cases the portable batteries are equipped with torches or weather protected covers and sometimes cables or cases are provided.